Content of this website
- stories, history and photos from the baltics - estonia ⌘ latvia ⌘ lithuania -
You can find a complete overview of all articles on the blog.
Go to the blog: latvia-online.eu/blog.
Pin Board - The 14 newest blog articles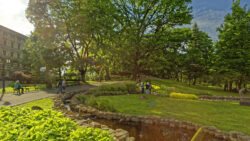 Von der einstigen Festung Rīga sind heute kaum noch Reste erhalten. Die einst imposanten Festungsanlagen wurden im Wesentlichen nach dem Krimkrieg zwischen 1857 und 1863 geschleift, die Zitadelle nordöstlich der Krišjāņa Valdemāra iela etwa zwei Jahrzehnte später. Einen Eindruck von den früheren Ausmaßen der Festung Rīga und der Zitadelle kann man aber auch heute noch während eines ausgedehnten Spazierganges entlang des Stadtkanals vom Busbahnhof am Zentralmarkt an der Centrāltirgus iela über die Prāgas iela, die Radio iela, den Zigfrīda Annas Meierovica bulvāris, den Kronvalda bulvāris bis zum Passagierhafen an der Eksporta iela gewinnen.
About this website
At the end of the 1980s, the people of the Baltic States no longer wanted to be east, but west. No longer beeing part of the Soviet Union, but of modern Europe. Since then, they have accomplished everything they set out to do. Estonia, Latvia and Lithuania are now members of NATO, Schengen countries and have adopted the EURO. On the way to modernity, people have made some sacrifices. In particular, the small state of Latvia and the capital Rīga fascinates me again and again. This city has undergone a complete transformation from large industry to a banking and service location and is today the economic engine of Latvia and the Baltic States, the heartbeat of the region. Vilnius as the capital of Lithuania and Tallinn as the capital of Estonia are cities of my dreams too. On this website, under "Blog" and "Photos" you can go on virtual forays through Estonia, Latvia and Lithuania and see places that tourists rarely or never see. This website offers all this and much more, for example excursions into the history or stories from the business and politics of the Baltic States.
---